I woke up to the sound of rain.
I was the first one up, so I took advantage of the time to get my act together. Today was a big day. The first day of the auctions. Auctions started at 10, so we wanted to be there for at least 9am.
Fat chance of that. The GPS we had in the van sucked, so we ended up going the wrong way a bit, but soon got back on course. The auction house was 45 minutes away, so we had time to make our game plan.
Once at the auction we found most of the regulars there, but there were quite a few faces I didn't recognize. One guy flew in from Italy. Another, an elderly German couple.
Seats were empty as auction personnel looked around nervously. Would they come?
Absent was the man who is responsible for this collection – Mark Solondz. But who is he? And what is his story? From what I understand, Mark is a real estate developer from New Jersey who has been collecting for years. He was most notably a contributor at Alphadrome, a tin website, but he had a passion for all kinds of Japanese toys. His collection was legendary. Three years ago however, all that changed. I'm not going to say what the event was and respect his privacy, but circumstances required him to liquidate his collection. He was not able to organize and sell it, hence Morphys involvement.
Teams swept in to the location and piled boxes high right off of the shelf. Nothing was matched or organized. Morphys then contacted experts in the respective fields to come down and help with the organization, cataloging, and valuation of the collection. It was an epic event. The diecast collection was organized over three days, by a crack team of Toybox DX (and CollectionDX) regulars. you can read the saga of that event here
All of that work culminated in this day. An epic undertaking, for sure, but would it be all worth it?
As the time approached, people began to settle in. In the back of the auction house, a local parents organization had set up a food stand. This auction was running six hours straight with no break for lunch. I got an egg and cheese sandwich from a nice mennonite lady and I took my seat.
Bidding works like this: Bidders in the crowd are assigned a number under 1,000 – bidders on the phone start with 3,000, bidders online start with 6,000. Of course, that was the idea, but there were exceptions to the rule. I was bidder 29.
The lots are called in order, starting at lot 1. Bid increments depend on the starting bid but are usually in $25 amounts. They average about 100 lots an hour, so bidding is fast and furious. The auctioneers were true auctioneers with their rapid fire auctioneer-speak. It seemed like we were bidding on cattle instead of toys. Sometimes they would throw in little jokes or quips, and we even think we heard one say "nerd" in their rambling.
The first lots up were for vinyl. I wasn't there to bid on any of that, but it was interesting to see. Most lots were going for under their expected value, with most being absolute steals. Maybe the vinyl crowd just wasn't up that early? Also the sheer volume of product being offered so early I think had people holding back their bids for later in the day. Few pieces met expectations, and a few bidders scored most of the lots. I think one buyer was from a certain retail store in New York City.
I think it was around noontime when the diecast started to hit. People scored insane deals on things. Seriously some things were going for ¼ of the current prices. People audibly gasped when things went so low, and cheered loudly when someone we knew got something they were after. It helped that we were all friends, and had consulted with each other about their desires the night before. Lack of in-room competition meant some people only had to bid against people on-line or on the phone. It was madness.
Some key sales – a $600 Godaikin Tetsujin T-28, a $450 Takatoku Super Ostritch Valkyrie, a $800 black Raideen. But some things went higher than expected.
Josh Fraser had his eye on the GA-50 Daikyu Maru set and bid ferociously, eventually winning it at over 5 grand.
It got on the electronic LED sign outside. Another shocker was a lot of Japanese Machine Robo (aka GOBOTS) going for $1400 when the crowd thought it would reach a few hundred at best.
As the day went on, people got tired. You could see their exhaustion, and their regret for wearing suits. The modern toys toward the end of the auction were practically given away. If you liked SOC, you could have gotten them for next to nothing. People began to meander over to the cash registers to pay for their goods when the first sign of buyers remorse sets in.
If you win an item, you have to pay a buyers premium. 17% for credit or debit, 15% for cash. Then, you have to add PA sales tax on top of that, which is another 6%. Most of us ended up paying an additional 23% on top of our winning bids. I feel bad for the bidders who did not attend who have to pay that PLUS shipping! (although, to be fair, the trip cost me over $400 in hotel and gas)
As you paid they went over and retrieved your winnings for you and placed them on a cart. This was an awesome time, with people delirious from what just happened. I know my legs were shaking, and I could hardly believe the deals I got.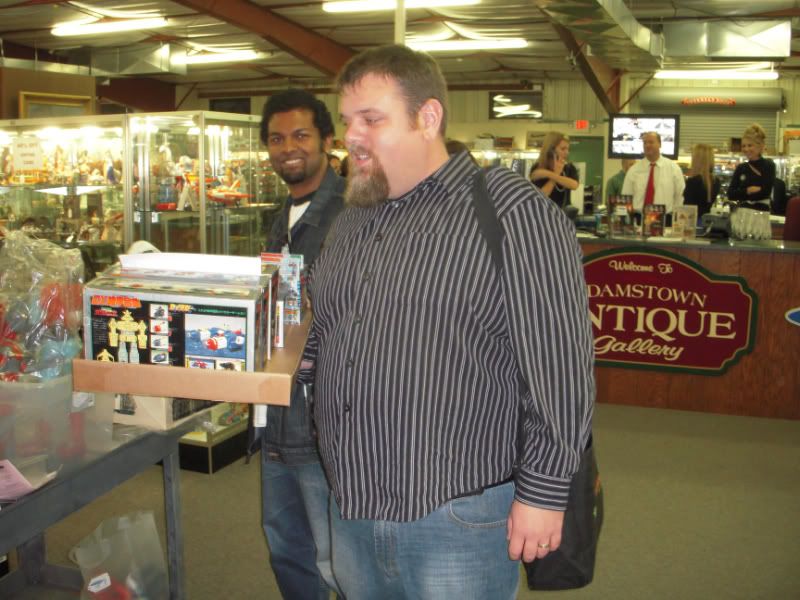 Photo by Jim M
Morphys graciously sponsored an after-party at a tavern down the street with free drinks and appetizers. We had some awesome chicken fingers and fries, and some great beer by a company called Stoudts.
However, the place was just too crowded, and I was tired, so we decided to leave. The gang was heading back to Mark's place, so I handed Sanjeev the keys and slept on the ride over. I don't think I quite woke up, as the evening is a blur, but I remember Dave throwing on a gay vampire movie and Roger showing us this insane 8-bit animation.
Kings of Power 4 Billion % from Zarradeth on Vimeo.
People started to fracture – some went downstairs to smoke cigars, some went upstairs to look at toys. I just wanted to call it a night. There was more auction tomorrow…